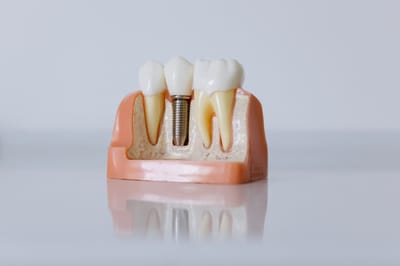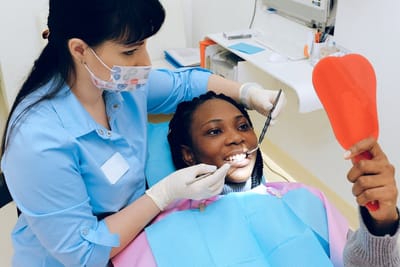 Restore Your Smile with Dental Implants

Do you have missing teeth that affect your confidence and ability to chew? Are you tired of wearing dentures that slip and cause discomfort? Are you afraid of going to the dentist because of pain or anxiety? If so, dental implants may be the solution for you.
Dental implants are replacement tooth roots that are surgically implanted into your jawbone. They provide a strong foundation for artificial teeth that look, feel, and function like your natural teeth. Dental implants can replace one or more teeth, or support a full set of dentures.
Benefits of Dental Implants
Dental implants offer many advantages over other tooth replacement options, such as:
Improved appearance. Dental implants blend in with your natural teeth and preserve your facial structure.
Improved speech. Dental implants allow you to speak clearly and confidently without worrying about dentures slipping or clicking. They also allow you to create a new denture that is less bulky
Improved comfort. Dental implants become part of you, eliminating the irritation and inconvenience of removable dentures.
Improved eating. Dental implants allow more foods to return to the menu as they are closest thing to re-growing your tooth
Improved self-esteem. Dental implants allow you to discreetly replace teeth without anyone noticing
Improved oral health. Dental implants do not require adjusting adjacent teeth in order to fill a gap like the option of a bridge.
Durability. Dental implants are made of titanium, a biocompatible and allergy free material used for many surgical implants such as orthopedic devices and hip replacements
Convenience. Dental implants are easy to maintain with regular brushing, flossing, and dental check-ups.
Are You a Candidate for Dental Implants?
To be eligible for dental implants, you need to have healthy gums and enough bone density in your jaw to support the implants. You also need to be committed to good oral hygiene and regular dental visits. Some medical conditions, such as diabetes or heart disease, may affect your healing and implant success. Smoking can also reduce the chances of implant success and increase the risk of complications.
To find out if dental implants are right for you, schedule a consultation with our experienced implant dentist. We will evaluate your oral health, take X-rays and scans of your jaw, and discuss your goals and expectations. We will also explain the implant procedure, costs, and aftercare instructions.
How Dental Implants Work
The dental implant procedure involves several steps that may take several months to complete. The steps are:
Preparation. Before the surgery, we will prepare your mouth by extracting any damaged teeth and treating any gum disease or infection. We will also take a 3D xray to evaluate if the procedure can be done as well as the size of implants required for the procedure. We may also perform bone grafting if your jawbone is too thin or soft to hold the implant.
Procedure. During the procedure we create a small incision under anesthetic to the previously planned sites. Afterwards we will be placing the implant body (commonly called the post) into the jaw and secure it in place. Afterwards we will suture and place either a temporary crown or denture in the location of the implant so you do not have to be without teeth.
Healing. After the surgery, you will need some time to heal and allow the implant to fuse with your bone. This process, called osseointegration, can take anywhere from three to six months. During this time, you will wear a temporary denture or crown to cover the implant site. Healing time depends on health conditions (common causes of lowered implant prognosis includes uncontrolled diabetes, IV bisphosphonates, and smoking)
Restoration. Once the implant is firmly anchored in your jawbone, we will attach an abutment (a connector) to the top of the implant. We will then take impressions of your mouth and create a custom-made crown, bridge, or denture that matches your natural teeth. We will then attach the artificial tooth (or teeth) to the abutment and adjust it for fit and comfort.
Contact Us Today
If you are ready to transform your smile with dental implants, contact us today to book an appointment. We are happy to answer any questions you may have and help you achieve the smile of your dreams.