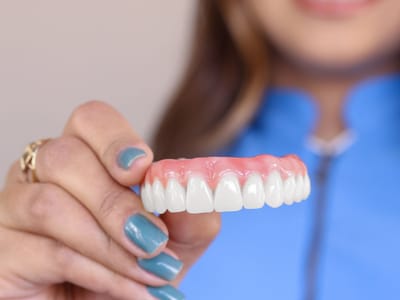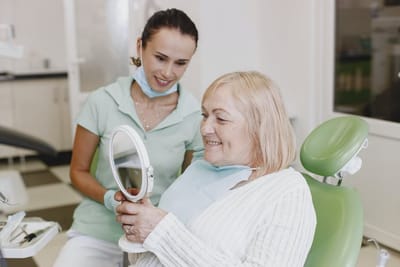 Smile with Confidence with Dentures
Do you have missing teeth that make you feel embarrassed or uncomfortable? Do you have difficulty eating, speaking, or smiling because of your tooth loss? If so, dentures may be the ideal solution for you.
Dentures are removable replacements for missing teeth and surrounding tissues. They can restore your oral function and appearance and improve your quality of life. Dentures can replace one, some, or all of your teeth, depending on your needs and preferences.
There are different types of dentures available to suit your specific situation. They include:
Complete dentures. These are also called full dentures. They replace all of your natural teeth in the upper or lower jaw. They consist of a gum-colored base that supports a set of artificial teeth made of acrylic or polycarbonate. Complete dentures can be conventional or immediate. Conventional dentures are made after your teeth have been extracted and your gums have healed. Immediate dentures are made before your teeth are removed and can be worn right away so you would never have to be without teeth. It is normal for immediate dentures to require adjustments as your gums and bone heal after the removal procedure and our team will happily guide you along the denture journey.
Partial dentures. These are also called removable bridges. They replace one or more missing teeth in a row. They consist of a metal or polycarbonate framework that holds artificial teeth attached to a gum-colored base. Partial dentures are held in place by clasps or attachments that fit around your natural teeth. They can be easily removed for cleaning and maintenance.
Implant-supported dentures. These are also called overdentures or hybrid dentures. They are anchored by dental implants that are surgically placed into your jawbone. Implant-supported dentures provide more stability and comfort than conventional dentures. They can be fixed or removable, depending on the type of attachment used. Patients with current traditional dentures or patients seeking implant dentures can take advantage a no-cost implant consultation.
Benefits of Dentures
Dentures offer many benefits for people who have lost some or all of their teeth, such as:
Improved appearance. Dentures can fill in the gaps left by missing teeth and restore the shape and contour of your face. They can also prevent your facial muscles from sagging and make you look younger.
Improved function. Dentures can help you chew and speak better than without teeth. They can also prevent bite problems and jaw pain caused by uneven tooth loss.
Improved confidence. Dentures can enhance your smile and boost your self-esteem. You can smile, laugh, and socialize without feeling self-conscious about your missing teeth.
Improved health. Dentures can improve your oral health by preventing plaque buildup, gum disease, and tooth decay in your remaining teeth. They can also improve your overall health by allowing you to eat a variety of nutritious foods.
Anxiety-Free Experience
We understand that getting dentures can be a stressful and daunting experience for some people. That's why we offer a range of sedation options to help you relax and feel comfortable during your visit.
Depending on your level of anxiety and the complexity of the procedure, we may recommend one of the following sedation methods:
Oral sedation. This is a moderate sedative that you take as a pill before the procedure. It helps you feel drowsy and relaxed while still being able to respond to verbal commands. A ride would need to be arranged for the patient.
IV sedation. This is a strong sedative that is administered through a vein in your arm. At our office, IV sedation is administered by a licensed anesthesiologist in office to allow you the comforts of sleep dentistry. A guardian must be present for the extent of the procedure.
We will monitor your vital signs and ensure your safety and comfort throughout the procedure. We will also provide you with post-operative instructions and pain medication as needed.
Contact Us Today
If you are ready to transform your smile with dentures, contact us today to book an appointment. We are happy to answer any questions you may have and help you achieve the smile of your dreams.